After finishing college, we began the mission of trying to buy that "perfect" horse, as we were ready to re-enter the equestrian world. We looked at numerous breeds from Paints to Arabians until our friend, Valorie Collante, introduced us to the breed to which we would forever be hooked. Since then, every encounter with the mystical Andalusian has been impressive.
Muneca (Oro T X Crown S Contessa) was our 1st Andalusian. We were so lucky to find this mare which obviously was meant to be part of our family. She willingly has gone along with everything we've asked of her from riding in the paddock with only a halter, to trecking out on endless trailrides. Equally impressive is her riding ability in the show ring. Best of all, Muneca has proven herself to be an excellent broodmare. She has passed all of her greatness onto her offspring while also trusting us to play parents to her foals.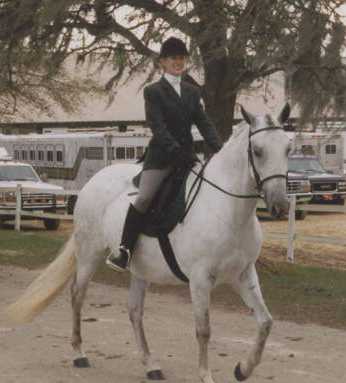 We chose to breed our mare to the 16 hand grey stallion, Dioro (Zafiro X Diosa), due to his athletisism and big movement.
We were there for the arrival of Muneca's 1st filly, Margarita, on June 15th 1998. We couldn't believe her beauty with a coat the color of a silver coin and feminine features. We took her to a show when she was just 3 months old and a spectator commented that she looked like a "silver cloud". Margarita is expected to be under saddle this summer.
Muneca's 2nd filly,Mina, arrived in the middle of the day. We came home to find the cutest little black filly by her side. Although we missed her arrival, this had nothing to do with her attitude toward us. Mina is the most affectionate filly that we have been around. Along with her sister, she has impressive movement and good bone structure.

Both of their foals have great movement, a friendly attitude, and continue to grow very tall. Although we are very excited about Muneca and Dioro's next foal, expected May 2001, it will regretfully be last. Dioro has recently been gelded and is focussing all of his attention to his career in dressage.

Our passion for P.R.E. horses began with just one look at this incredible breed and it was just the beginning.